Night Treks near Pune
Night Trek is recommended for trekkers who are bored with day treks and are looking for something extra. This kind of activity is only recommended for experienced trekkers who have done at least 7 treks before.
We recommend that your group size should be of atleast 6+ guys if you are planning for a night trek. If there are girls in your group, ensure that the number of guys is a minimum of 8. Safety is a major concern as there is always a risk of wild animals and robbers. Please check the equipment to carry and warning section for a detailed guide on safety while trekking.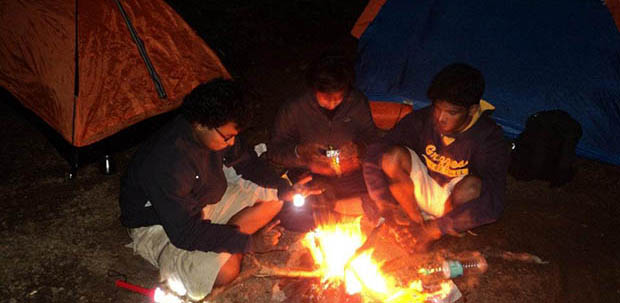 Sahyadris have some wonderful forts that offer an amazing trekking experience. Here we have listed the popular night treks near Pune. Please note that these are not arranged in an alphabetic order but in an adventure fulfilling order :). Click on the link of individual fort to get detailed information.
Night Treks
| Fort Name | Region | Ideal Season | Difficulty Level |
| --- | --- | --- | --- |
| Ghangad Night Trek | Tamhini Ghat | Anytime of the Year | Moderate: Trek does not take more than 45 mins and offers an amazing forest like Trekking experience. Ideal for night treks as the trekking time required is less and there is ample of camping space on the top. |
| Kenjalgad Night Trek | Bhor | Winter Season | Moderate: This is recommended for poeple who want to stay away from crowded places and want a night trekking experience with their own group. Not many trekkers know about this place and hence is recommended for trekkers who want to stay away from the crowd. |
| Mighty Harishchandragad | Ahmednagar | Winter Season, Pre Summer | Extrememly Difficult: Recommended for only extreme adventure seeking trekkers. Harishchandragad is probably the best fort for night trekking there are n number of mountains to cross and once you get to the top its all worth it. |
| Rajgad Night Trek | Nasrapur | Winter Season, Pre Summer | Difficult: Rajgad [The king of forts] is just awesome for night trekking. At night time, you will get some breath taking views of the stars and the moon. Some parts of the route are a bit tricky and hence its recommended that you take a guide from the base. There have been incidents when trekkers have lost their track and went missing. |
| Torna Night Trek | Nasrapur | Winter Season, Pre Summer | Difficult: Torna is recommended for adventure seeking seasoned trekkers. This one is the highest fort in Pune and offers spectacular trekking experience at Night. Please ensure that you always stay in a group while trekking at torna. |
| Malhargad Night Trek | Post Diveghat - Hadapsar | Any Season | Very Easy: Malhargad trek is very easy and is for trekkers who have very less trekking experience. Just take a large group and enjoy the night trek at Sonuricha Killa. It takes hardly 15mins to get to the top and the route is very simple. |
| Salher Night Trek | Nashik | Winter Season, Pre Summer | Extremely Difficult: Well, this fort is not exactly near Pune but its defnitely worth visiting. Located in the Baghlan mountain range of Nashik, Salher is the final destination for any trekker in Maharashtra. It is the highest fort and offers some great views from the top. |