Basic Info: Torna fort is located in Pune district and is the best fort in pune. The height of Torna from sea level is 1405 metres and offers spectacular views of Sahyadri Mountains. Once you reach the top theres a lot more to discover.
Routes: You can either go by your own vehicle to Torna or you can take a public transport bus from Swargate Bus Depot in Pune. Velhe is the base village from where the actual trek for Torna starts.
Travelling by your own vehicle: To reach Velhe first reach NASRAPUR by NH 4, this is approx 35 kms from Pune Station. Turn right at the Nasrapur Phata from the highway and travel westwards approx 30 kms to reach the village Velhe. Once you get to Velhe, you can park your vehicles either at the base near the Velhe Police station or drive to the newly built parking area.
To get to the newly built parking lot, you need to drive for an additional 10 minutes from Velhe Police station. There's a nice concrete road but its quite steep. So if you are not very confident of driving on steep roads, park your vehicles at the base.
Travelling by PUBLIC TRANSPORT: There are buses that run from Swargate to Velhe. We are not sure about the exact bus timings, but you can get that info by calling the bus depot.
Trek Route / Difficulty Level
The trek route is pretty simple to follow but a bit difficult in the last few sections. If you drive till the parking lot, you will save around 25% of trekking time. From the parking lot, it should take 2 hours to get to the top of the fort.
From the base, it takes around 3 hours of trekking time. After covering around 60% of the hike, the trek gets pretty steep and for safety, railings are installed on the edges of the trek path. One needs to be extra careful during the rainy season as the rocky patches get extremely slippery. This trek is definitely not recommended for beginners during the rainy season.
One important advice: Do not carry any eatables in your hand while trekking near the railings. There are quite a lot of monkeys in that patch and they try to snatch eatables with all their might.
In general, the best season for trekking at Torna would be during the winter season. Also consider starting from the parking instead of starting all the way from the base village. This will save you some time which you can spend for checking the beauty of the fort.
Trek route from Rajgad: If you are an avid trekker, then you might want to consider the trek route from Rajgad to Torna to get to the fort. This involves trekking to Rajgad first and then walking over the ridges of the mountains will take you to Torna.
This path starts from the Sanjeevani Machi of Rajgad fort and ends at Kokan Darwaja of Torna. You need to hike for around 11 kilometres but it's totally worth it. You'll be surrounded by mountains on both sides and the views are just amazing. Here's a screenshot of Google Maps route of the trek path.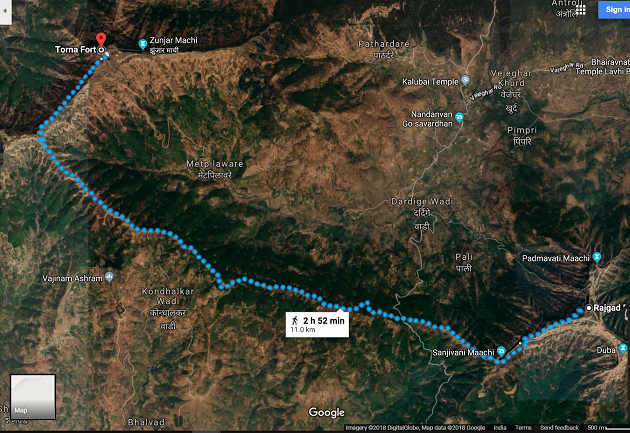 Ideal Time for Torna Trek: You should really avoid going to Torna during the rainy season unless you are an expert trekker. The terrain gets very slippery and hence is not recommended at least for beginners. The perfect time for trekking at Torna would be during the winter season. The coldness during the winter season makes the trek less tiring and the views from the top are breath taking.
Camping Info / Food Options:
Torna is a popular place for campers. Most people carry their own Tents and other camping equipment while going for camping. You can also stay in the Mengai temple and a few other structures on the fort. Please carry lot of insulating material with you if you are planning to go during the winters as it gets really cold during night time. We've seen trekkers hunting for firewood at midnight due to extreme cold temperatures.
If you are carrying your own tents, ensure that you pitch them where it's less windy. At night time, the wind gets pretty strong and makes the tents shake heavily which might affect your sleep.

On weekends, the locals setup small shops where you can get Kanda Bhaji / Pitla Bhakri and water bottles. So if you are thinking of camping on a weekend, there's no need to carry a lot of water bottles with you. However, we recommend that you take some maggi packets and some water with you, as there can be instances where the food items available on the fort go out of stock.
Check this link for places where you can buy tents and other trekking equipment in pune.
What to see on the fort:
KOTHI DARWAJA
BINI DARWAJA
HANUMAN BASTION
ZUNJAR MACHI [Machi is the strongest point on a fort]
BUDHLA MACHI
Will be added soon