RAJGAD FORT, RAJGAD TREK
Rajgad is a very popular fort located located at around 30Kms from Katraj, Pune. The height of the fort from sea level is 4250 feet. It offers some spectacular views of the Sahyadri Mountains and the nearby valleys. One can also see Sinhagad fort and Torna from Rajgad.
We have added some useful info about the fort and the trek involved in getting to the top. This will help you in planning your next trek at Rajgad.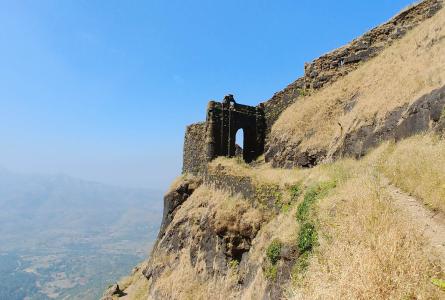 Rajgad Photos
DIFFICULTY LEVEL:
MODERATE
Height:
4250 ft
Time for trekking
: 2 1/2 Hours from the base.
King of the forts. Rajgad is an amazing fort near Nasrapur Phata which is approximately 60kms from Pune.
How would you rate this place on a scale of 1-5? Vote Below!

Currently rated at 4.4 with 113 votes.
Thanks for Voting! Your vote will be used in the aggregate count.
---
Best Season to visit: The best season to visit Rajgad is during the monsoon and the winter season. Trekking feels fantastic during the monsoons but trekkers should take precautions as the trek route gets very slippery.
Winter season is ideal for camping at the fort. The temperatures get very low during the winters and a bonfire based campsite is a heavenly experience.
Routes: The way to Rajgad is via NASRAPUR Phata which is approximately 15 - 20 Kms from Katraj Tunnel and just 5kms from the Mcdonalds/Dominos outlet after the first toll on NH4. Reach NASRAPUR by NH 4, this is approx 35 kms from Pune Station. From Nasrapur travel westwards to reach the following base villages…..there are multiple base villages for this fort. I have mentioned 3 routes here [Gunjawane, Bhor and Pali]
From Gunjawane the trek is a little bit tough as it leads to the Chor Darwaja and it takes almost 2 1/2 hours for trekking with 4-5 breaks during the trek. Inexperienced trekkers should go via Pali village as this trek is not that difficult as compared to the trek via Gunjawane.
The Pali route will take you to the main door of the fort. Trek from Pali village is comparitively easy. So if you have elderly people or kids in your group, we recommend that you take this route.
There's a way which goes to Torna along the ridges of Sahyadri Mountains from Rajgad.
For the Bhor Route, you will have to head towards bhor from NH4 and then from Bhor to Bhutonde. From Bhutonde village, a 3 -4 hours trek will take you to the Alu Darwaja of Rajgad. This route is not very popular, but if you want to experience something different, then, you should definitely try this.
Difficulty Level and Other useful tips:
Difficulty level is moderate. It takes approximately 2 1/2 hours to reach to the top via Pali and 3 1/2 hours via Gunjawane. The highest point of Rajgad is Balekilla which is a fort on Rajgad. Take plenty of water and some energy drinks with you as the trek is a bit tiring.
Food and Water on the fort: It is always recommended that you carry your own drinking water from home. Atleast 3 litres per person for one day treks
For food, the villagers on weekends do serve Poha, BHaji and Zhunka Bhakari at Padmavati temple on the fort. But again, do take some snacks packed from home.
Camping Info: Rajgad fort is an ideal fort for camping. There is plenty to be explored on the fort which cannot be done in a one day trek, hence halting overnight and then exploring the fort the next morning is always recommended.
There are 2 temples [Padmavati and a smaller temple] which you can use for camping during night if you do not have tents.
Security is not a major concern as both the temples have working doors. But, if you have females in your group, I would recommend that you take at-least 7-10 males in your group.
You can also carry your own tents for camping. There are plenty of nice spots where you can pitch your tents for the night.
Accomodation Capacity:
Padmavati Temple : 50
Smaller temple: 6-7
Check this link for places where you can buy good tents in pune.
You don't need to carry Firewood for camping on this fort coz the Villagers sell firewood for Rs.50 and Rs.100 on the fort itself. Rs.100 Firewood should keep you warm the whole night.
What to see on the fort:
SANJEEVANI MACHEE
PADMAVATEE MACHEE - This machee is one of the important structures on the fort. During the Maratha rule, this machee was used as a stronghold to protect the fort.
PADMAVATI TEMPLE - This is the temple of goddess Padmavati. Many trekkers use this as an shelter for overnight treks.
RAMESHWARAM TEMPLE - This is another small temple which lies in the frontyard of Padmavati temple. It is a temple of lord Shiva. This again can be used for night stays and can accomodate 5-6 persons.
ALU DARWAJA - During old days, this door was used to go to Torna fort. The structure of the door is in ruins now.
PALI DARWAJA - This is the main door of Rajgad which is still intact. Even the surrounding structures are still intact.
Trekkers who take the Pali route have to enter the fort via this door.
SUVELA MACHEE
BALEKILLA
VIEW OF TORNA AND SINHAGAD