GHANGAD FORT, GHANGAD TREK
Basic Info: Ghangad is a beautiful fort located in the heart of Tamhini Ghat. The photos on google might be a little deceptive and you might think that the trek is difficult, but its not. Its a relatively simple trek but still offers some awesome views from the top of the fort.
Route Info: Head towards Mulshi from Pune via the Chandni-Chowk-Paud-Pirangut route and then after crossing Mulshi head towards Tamhini ghat.
Once you hit Tamhini ghat road there is a diversion to the right somewhere in the mid of the ghat. It is approximately 20 kms from Mulshi. So keep an eye on the right side of the road for any sign boards. I mean not literally, priority would always be to keep on eye on the road if you are driving.
From this sign board on the road, the road is in a pretty bad condition and it takes around 1 hour to reach to the base village of the fort.
If you get confused you can always ask the locals in the area for the road to Ghangad.
Ghangad is indeed the most untouched place around Tamini ghat. Here are the main attractions on the fort.
Bastions on the Fort
Caves at the mid section
Beautiful views of the surrounding valleys
Rock Patch - Earlier this was the most difficult part to cross.
Water Tanks
Temple of Goddess Garjai
Here are some pics that we took on our last trek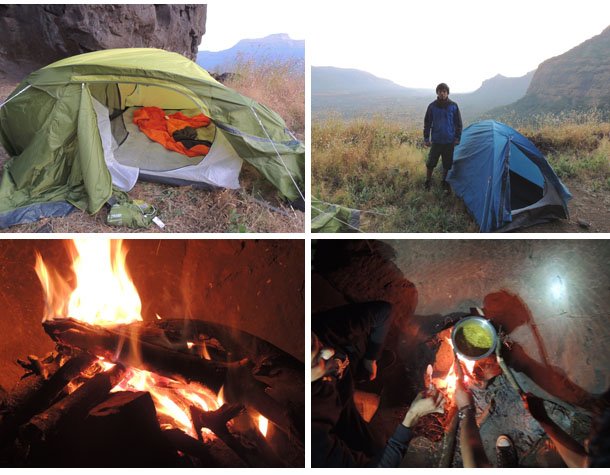 Difficulty Level and Other useful tips: This trek is quite easy, however, I think that during the rainy season it might be a bit difficult for novice trekkers.
Shivtrail group has done an amazing job by installing a ladder on a rock patch without which beginner trekkers could never get to the top of the fort.
Camping Info: Most ideal place for camping. The caves provide good shelter and the open space infront of these caves can be used for making bonfires and cooking food.
If you have your own tents, there is nothing like it. There is plenty of open space on the top of the fort where you can set up your tents. Heavy winds can be a problem in the open space.
Ensure that you carry plenty of food and water with you as the villages are very small and you wont find anything in those villages.