RAIGAD FORT FORT, RAIGAD FORT TREK
Raigad fort is one of the most popular forts in Maharashtra. It's located in the Raigad District and has a height of approximately 2700 feet above sea level. This fort served as the capital of the Maratha Empire from 1647 AD.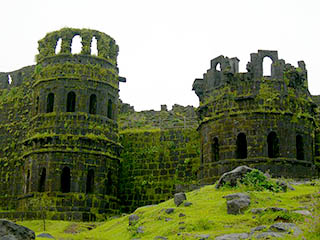 Raigad Fort Photos
DIFFICULTY LEVEL:
Difficult
Height:
2700 ft
Time for trekking
: 2 hours from the base
An amazing fort in Raigad District. Chhatrapati Shivaji Maharaj made it his capital in 1674. A fort that has a lot of history associated to it.
How would you rate this place on a scale of 1-5? Vote Below!

Currently rated at 3.7 with 95 votes.
Thanks for Voting! Your vote will be used in the aggregate count.
---
Routes from Pune: From Pune there are two major routes by which u can reach Raigad fort.

1) From Pune head southwards on NH 4 for about 48 kms and then you have to turn left from the highway after passing Kivki Village to get to Bhor…..from Bhor continue your journey westwards on the same road till you reach Mahad, which is about approx 100 kms from Bhor. Once you reach Mahad you have to turn north towards Pachad village which is the base village of Raigad fort.

2) From Pune head westwards on Paud road to reach Mangaon, which is town on NH 17 and 120 kms from Pune.
After reaching Mangaon move southwards on NH 17 to reach Mahad. From Mahad reach Pachad Village by the same route described in 1.
After reaching Pachad village you can start your trek from there or the Raigad Paytha. (Vehicle parking is available at Raigad Paytha). Ensure that you park your vehichles in a proper place where it does not block any roads.
Parking Space: There is plenty of parking space at Raigad and all of these are safe parking spaces. Some of the spaces near the Ropeway area are paid parkings. Choose as per your preference.
Difficulty Level and Other useful tips: There are 2 ways of getting to the top of the fort. One is via the Ropeway (Cable Car) or by the usual trekking route.
Difficulty level is Medium. It will take approximately 1 1/2 hour to reach to the top. For an experienced trekker it should take just just an hour. If you are planning to trek in the night, ensure that you have good flashlights with you. Watch out for crawling creatures and if you need to stop, avoid sitting near any corners coz thats where most crawling creatures would be resting.
If there are elderly people or kids in your group, you can avoid the trekking part and go via the ropeway. It takes around 15-20 minutes to get to the top via the ropeway. Although it sounds like a quick way of getting to the top, it isn't. The queue for the ropeway tickets is always huge and sometimes it takes around an hour to get a ticket.
Important Note: If you have Acrophobia (fear of heights), then please avoid taking the ropeway. The view of the valley from the cable car might scare you.
What to see on the fort: There's a lot to see on the fort as most of the structures are still intact. The structures give us a true glimpse of the amazing history of Maharashtra and the Maratha Empire.
Market place
Holicha Mal
Hirkani Buruj
Takmak Tok
Jagdishwar Temple
Samadhi of Shivaji Maharaj
Samadhi of Waghya [ Shivaji Maharaj's Dog]
Throne of Shivaji Maharaj
Queens Palace
Meena Darvaja
Ropeway
Camping and Food:
Raigad fort is ideal for camping. There are many closed shelters where you can stay. For food, you can either carry your own food or eat at the mini food outlets on the fort.
If you are with your family, we'd recommend that you stay in the MTDC resorts available on the fort which require advance booking. In our pics we have the MTDC resort phone numbers.