RAIRESHWAR FORT, RAIRESHWAR TREK
Basic Info: Raireshwar is a place of historical importance that is located towards the south west of Pune near Bhor. This is a beautiful place to visit during the monsoon or winter season. The breath taking views and the feeling of untouched nature is just mind blowing.
Ideal place for a one day trek and can also be made a two day trek if you plan to visit Rohida and Kenjalgad.
Route from Pune: There are two routes to get to this fort. One is via Bhor and the other via Wai. The Bhor route is not recommended for large vehicles [bus, tempo traveler, etc] as it goes througha very narrow ghat that does not even have a tar road.

Route via Bhor: This is the default route that google maps would suggest when you enter Raireshwar fort as the destination of travel. One has to get on NH4 and head towards Satara. After the first toll at Khed Shivapur and after "Prati Balaji's left turn", there is a right turn on NH4 that will take you to Bhor. You have to take this turn. It is also called as Bhor Phata. From Bhor, you have to head towards Korle village which is approximately 30kms from that Phata. This is the base village from where the actual trek starts. If its your first time for trekking, we would recommend you to take a guide from the base village.
Route Via Wai: This is the longer route, but is ideal for large vehicles like Buses or Tempo Travelers. The route is as follows Pune-NH4-Shirval-Khandala-Wai-Dhom-Raireshwar-Fort. If you are confused about the route given here, add Wai as the second destination in google maps and that's basically the route that you will need to take.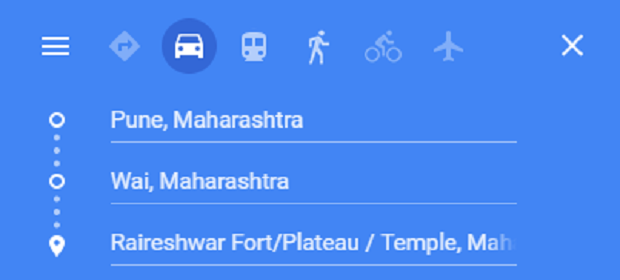 What to see at Raireshwar:
Raireshwar Mandir - This is the temple where Chattrapati Shivaji Maharaj took the oath of Swarajya. It is said that he cut his little finger and took the oath by dripping blood on the shivling inside the temple.
Gomukh Lake
Aswal Lake - Also known as Nakhinda
Pandav Leni
Difficult Level and Other tips: This one is a simple trek. But ensure that you always carry plenty of water with you. This base village does not have a lot of shops and finding packaged water will be a hard thing to do.
For overnight treks, please carry a tent as there is no proper shelter on the fort.
Camping: Many trekkers who also trek Kenjalgad and Rohida on the same trek camp at Raireshwar. The villagers can help you with firewood that may be required.
In the winter season, just ensure that you carry plenty of blankets and sleeping material with you as the weather gets pretty cold here.
Chattrapati Shivaji Maharaj took the oath of Swaraj here. The Raireshwar Mandir is hence of historical importance.
He did this at the age of 16 in the 16th century.