Original Content in English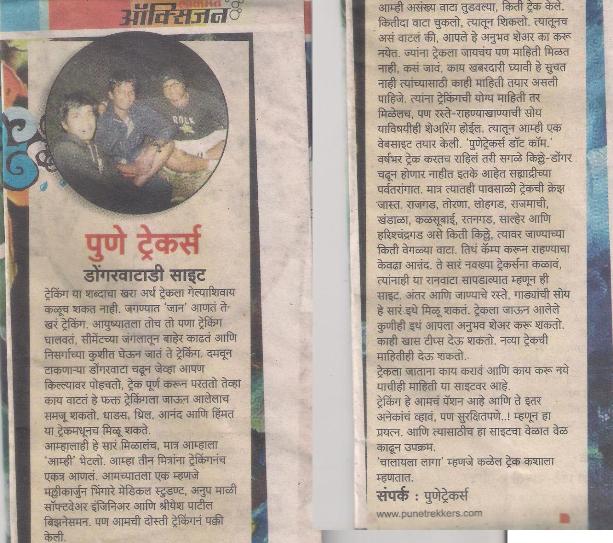 [Trekking], a word whose meaning is understood best when practiced and experienced! Trekking adds life to your days, which you would otherwise spend doing nothing so significant.
Taking a trek, a hike has advantages,
the most important advantage being it helps you break away from the monotony of the urban jungle, helps you connect with nature and drive away all your blues. It is a great way to drive away all your stress. After a tiring long trek, the happiness you feel when you reach atop a mountain or after completing your trek is a feeling that cannot be explained until experienced. Here it is…..we will help to make your trek better. Here you will have it all. All that will make your trek adventurous, interesting and memorable enough so that you will cherish it lifelong.
For us, Anup Mali, Mallikarjun Bhingare, Shriyash Patil ....
trekking brought us together in our free times, away from our busy schedule, to appreciate what nature had to offer. After some experience we thought of putting up our experience online so that it would be helpful for people seeking stress busting solutions. This was when punetrekkers.com came up...thanks to Anup Mali for the the web work ! Even the whole year will not be enough if you wanna trek the Sahayadris !!! Especially for puneites, who have so many trekking spots around. The best season being Monsoon...this is the right time to fetch your trekking gear. One day treks to Rajgad, Torna, Vasota, Lohgad, Visapur, Rajmachi, Khandala Valley can be refreshing. In long treks to Kalsubai, Ratangad, Salher or the mighty Harishchandragad, you can also do camping. Before visiting any trekking place you should understand that they are special to and important to us and the forts hold memories of our ancestors and are very important places of history. Most forts in Maharashtra hold memories of "Chatrapati Shivaji Maharaj".
Nature has a lot to offer. Simply Get away from your routine, go out there on a holiday or weekend, enjoy your trek and you will come back refreshed, re-energized with your fears conquered and a new you, ready to take on the world.
At www.punetrekkers.com we have information about Trekking Places, Routes, Trekking Equipments and important tips for you.